Have you ever wanted to become a sound engineer? Do you know what they do and what skills they need?
In this article, I'm going to show you exactly what a sound engineer is, what they do, what skills they have, and how YOU can become a sound engineer in 2024 even with little experience.
What are Musical Theatre Sound Engineers?
The sound team in theatre (also known as sound technicians) have several titles, however, the main ones are:
Number 1 Sound
This is the person who oversees the sound department, the head of sound (HOD).
Number 2 Sound
This person is the deputy head of sound and is charge when the HOD is unavailable.
Some of the other responsibilities are:
Assist the Production Sound Engineer and Sound No1 to co-ordinate the hire and preparation of equipment and venue supplies, in tech and throughout the tour.
To assist the Sound No1 in taking over from the Production Sound Engineer after the fit-up, taking particular responsibility for dealing with radio mics
Support the Sound department and wider technical team during the get out
Experience operating digital sound control systems with specific experience on Digico and Yamaha digital audio equipment
To take responsibility for in-ear monitors and radio mics during performances, including testing, fittings and checks.
To deputise for the Sound No1, including live mixing the show and facilitating any maintenance work.
To work with the Sound No1 on sound maintenance.
Ensure all sound equipment and areas are kept in a tidy and secure manner
Run the on-stage Sound plot during performances and rehearsals and manage venue crew where necessary.
Work collaboratively with all other departments, particularly the Wardrobe and Wigs teams , to ensure the smooth running of the production.
Compile and keep up-to-date all necessary show paperwork both hard copy and digital
Knowledge and experience of the working practices of a touring production.
Number 3 Sound
These are the other sound professionals that are the assistants to the head of sound.
For my Ultimate Guide on what is a sound engineer check out my other post. https://robsummers.co.uk/the-ultimate-guide-what-is-a-sound-engineer/
What does a sound engineer do in Musical Theatre?
The duties of a studio sound engineer will be different from a theatre one depending on the technical theatre show or music concerts the venue hold.
A NEW Musical
There are new musicals opening and closing all the time in the West End, so the chances of working on one is high. Each person has their own part to play. Below is a breakdown of each role.
Sound HOD
Work closely with the Sound Designer
In musicals, the sound designer puts forward who they would like to work with. They have normally worked together before so know each other's working style. This can save a lot of time as there may not be much prep time (Time to plan the show)
INSIGHTS: WHAT IS SOUND DESIGN?
Manage the Sound Team
The sound HOD must make sure everyone on the team is on the right page but not micro-manage. This again is easy if the team has worked together before. Normally the Sound Number 2 is in charge of everything backstage, including the orchestra pit.
Attend Rehearsals
This is the best time to plan the show. The sound engineer normally gets a script, a list of sound effects (SFX), and any changes to the show from the deputy stage manager.
Plan the Sound Desk layout
When I say desk layout, I mean the VCA (aka DVA or CG) layout. Normally the sound designer would have planned all the line input/output like channel, AUX, Group, and matrix layout. It's the sound HOD's job to program each scene and desk cue.
Rig-check the system
Rig checking means exactly that. Checking every bit of the rig or system, including all the microphones and every speaker. Normally the sound tech will include the rig-check in the desk cue stack before they get to the pre-show cue.
Mixes the Show
This is the thing they are known for. Mixing the theatre performances for the audience, making sure the sound quality and sound levels are at their best. They normally mix in the style known as Line by line mixing. This is where the mics are turned on and off for each line. They will also fire any sound effects for the show. This is sometimes cued via stage management.
MIXING TIPS: WHAT IS LINE BY LINE MIXING?
Number 2
Set-up the backstage plots
With the help of the number 3, the number 2 normally sets up the backstage plots. This will include helping backstage with any pack swaps and checking connections, where a radio transmitter or mic pack, is swapped from one cast member to another.
Prep Mics
Prepping mics is an important skill of a number 2 sound. This will involve attaching wig clips, painting mics and fitting it to the actor/singer.
Fix and Maintain Mics
This is another great skill to have as a number 2 sound, as the cast mics need constant maintenance.
Monitor Radio Mics
The main role for a number 2 sound during the show is monitoring all of the radio mics and letting the HOD know of any problems.
Sound Checks
The whole sound team normally do the sound check.
Mix the show
Once the show has opened, the number 2 sound will start to learn the mix.
Number 3
Help Number 2
These roles mainly help the Number 2 Sound set up backstage plots, and prepping mics, and during the show, they will be swapping microphones and dealing with mic positions and sweaty actors.
Now you know what the sound team does on a new musical but what do musical theatre sound engineers do on shows that are already open?
An OLD Musical
"Old" meaning a musical that's already opened like Les Mis or Wicked and has been there for a while.
It's very much the same, but you don't have to attend as many rehearsals.
What Skills do you need?
Musical theatre sound engineer skills vary and when you start working in theatre on the sound team, you normally start at the bottom, as a dep, meaning you come in and cover the number 3.
Starting as a DEP
As dep, you will be shown exactly what you need to do during the show so will gain practical experience. You will be given a cue sheet and will follow the number 3 around for a couple of shows.
For this role, all you need to have is a can-do attitude, a notepad and be available to work evenings
Number 3
As the Number 3, great skills to have are:
Great communication skills as you deal mostly with angry cast and band members.
On some shows, the number 3 gets to mix, so watch and learn
Never be afraid to ask questions. You will never learn if you don't.
Number 2
As the Number 2, great skills to have are:
Technical knowledge as you will be the first on the scene when the sound equipment breaks. Hopefully, you would have gained that by asking all the right questions as a number 3.
Mixing skills. With most modern shows having multi-track recordings, it's easier to practice under near-show conditions.
Cheeky Tip: If you are more into the tech side of Sound Engineering, then I suggest going on tour. You will learn more on a 3 month tour around the UK, than a year in the West End.
Number 1 Sound
As the HOD, great skills to have are:
Expert Knowledge of mixing desks.
Experienced in most show control and desk software.
High competence in running a team during a show or load in/out.
Highly tuned fault-finding skills.
A reputation for being able to deal with stressful situations.
Comfortable with taking instruction from senior staff members or giving instructions to junior staff members.
Now you know what a sound engineer does and what skills they need, let's move onto:
3 Easy Ways to Get Started as a Sound Engineer.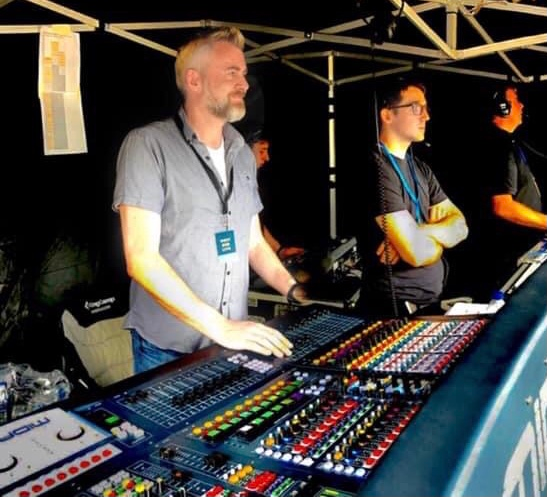 Most people either have done sound design in amateur or student theatre, mixed local bands or done some sort of home studio recording so think it's easy to start their theatre career.
1.     Get Qualifications
There are lots of people in the theatre industry who "fell into" audio engineering and don't have any qualifications and have worked their way up the success ladder which means doing official college course are not crucial as on-the-job training is offered, however, there are a lot of sound technicians who got careers advice do have some sort of certifications which can help them become an audio engineer.
Personally, I would find a theatre sound training course that would get my fingers on the faders first and my foot in the door. That way, I would know if I liked it and could then do a longer course.
There are a few out there. Click the banner below to find out what I feel are the 4 best courses for theatre sound training.
2.     Warehouse Staff
There are a number of live sound equipment manufacturers and live sound companies (aka hire companies) around the country that are looking for warehousing staff and sound engineers to look after and prep the sound equipment. These people work in the hire company and help set up the live sound equipment the designer requests for the live sound design of the show. Doing it this way will take a bit of time but it's a great way to learn all about the equipment and get to know the leading sound designers and production engineers.
I would personally try sound engineering companies like Orbital, Autograph, Stage Sound Services and Wigwam.
3.     Start as a Dep
Once you know the difference between a mic and a speaker, you are ready to go out into the world and start looking for jobs. This can be harder than it sounds, especially if you are trying to break into the musical theatre world.
A lot of people would suggest that you drop off your CV at the stage door of every theatre you know. I personally think that's a waste of time. You can do this if you think it will help. My only suggestion is that you find out who you are writing to. DO NOT write "To whom it may concern"
There are a lot of people trying to become sound engineers, and most theatres aren't going to be interested in hiring someone with little experience. Some shows get hundreds of CV's a month so sticking out is hard to do.
I would start small and look for work at your local smaller venue first. Once there, get to know the sound team of every show that comes in. Get to know them well enough to add them on social media. That way you can work your way up to bigger venues, eventually getting to the point where you can work on some top shows.
If you don't have a local theatre or your local is the West End, then I would do this.
First, find a show you would like to work on. Buy a ticket for said show and a programme as well. Find out the names of all the team. In the interval go to the sound desk and introduce yourself. Use their names. Remember you only have a few minutes so don't waste them. Tell them you are looking for depping work and could you leave them your CV.
There are a number of Facebook groups that can also help you:
The Audio Cartel: https://www.facebook.com/groups/31262516242
Backstage Theatre Jobs: https://www.facebook.com/groups/13011899629
Wrap Up on how to get into sound Engineering.
I hope this has been helpful in your quest to get into technical theatre and become a musical theatre sound engineer and you now know where sound engineers start. Good luck to you and if you have any questions about the process, please don't hesitate to reach out.